IRVINE, Calif.
—
August 30, 2023
—
Immunis, Inc., a private biotech creating novel cellular secretome therapies for age and disease-related immune decline, was bestowed Corporate LiveWire's prestigious "Innovation and Excellence Award."Corporate LiveWire is highly regarded in the business world, acknowledging the stellar performance of leading companies with technological innovation. Immunis' cutting-edge research and transformative secretome technologies have undoubtedly set the company apart as a trailblazer in biomedicine.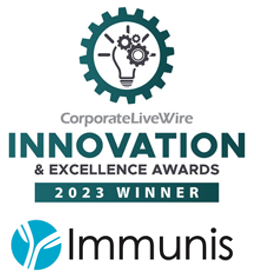 This accolade recognizes Immunis' pioneering contributions to the field of regenerative medicine through its investigational secretome product, IMMUNA, and its commitment to improving the lives of individuals with age. Immunis Chairman, Dr. Hans Keirstead, will receive the esteemed award at the illustrious ceremony in England. Dr. Keirstead expresses his gratitude and excitement on behalf of Immunis stating, "It is an incredible honor for Immunis to receive the 'Innovation and Excellence Award.' At Immunis, we are committed to developing revolutionary therapies that positively impact people worldwide, and this award reaffirms our mission."
The LiveWire event also provides an ideal platform for Dr. Keirstead to establish meaningful connections with like-minded businesses that share a vision for pushing the boundaries of medicine. Immunis is excited about how these networking opportunities will create valuable collaborations to accelerate medical advancements for human health.
About Immunis Inc.
Immunis is a private biotechnology company developing a novel immunomodulatory secretome product for the various manifestations of age and disease-related immune decline. The investigational product line leverages Immunis' leading-edge capabilities in secretome technology to deliver a product of all natural, all human immune modulators in their natural relative physiological concentrations. For additional information about Immunis' Phase 1/2a clinical trial please visit: https://immunisbiomedical.com/clinical-trials/
Cautionary Note Regarding Forward-Looking Statements
This communication contains statements that constitute "forward-looking statements" within the meaning of the Private Securities Litigation Reform Act of 1995, as applicable. Forward-looking statements include, but are not limited to, statements regarding our plans, beliefs, expectations and assumptions, as well as other statements that are not necessarily historical facts. You are cautioned that these forward-looking statements are only predictions and involve risks and uncertainties. Further, any forward-looking statement speaks only as of the date as of which it is made, and we do not intend to update or revise any forward-looking statements. This communication also contains market data related to our business and industry which includes projections that are based on several assumptions we believe are reasonable and most significant to the projections as of the date of this communication. If any of our assumptions prove to be incorrect, our actual results may significantly differ from our projections based on these assumptions. This communication is neither an offer to sell nor a solicitation of an offer to buy any of the securities described herein.