IRVINE, Calif.
—
August 21, 2023
—
Immunis, Inc.,
a private biotech company developing novel cellular secretome therapies for age and disease-related immune decline, is delighted that its Chairman, Dr. Hans Keirstead, will present at the Advanced Therapies Conference in Portugal. The Advanced Therapies Conference is a premier gathering of thought leaders and pioneers from around the globe, engaging in discourse on the latest innovations in therapeutic research.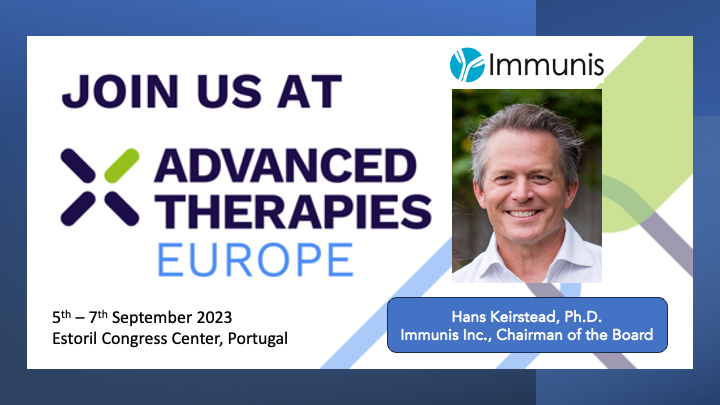 Dr. Keirstead will share insights from Immunis' investigation on the transformative potential of cellular secretomes in ameliorating a variety of age-related diseases. Conference goers will learn about Immunis' creative approach to developing cellular secretomes, like IMMUNA, that have demonstrated positive preclinical outcomes for improving muscle regeneration and function. Dr. Keirstead will also highlight Immunis' ongoing Phase 1/2a clinical trial, where IMMUNA is being studied for its safety and tolerability in individuals with muscle atrophy associated with knee osteoarthritis.
Immunis recently received approval from the Data Safety and Monitoring Board (DSMB) to proceed with increasing the dosage of IMMUNA in the next cohort of patients. The DSMB's support solidifies Immunis' confidence in the potential of IMMUNA.
The Immunis team remains steadfast in ensuring the robust assessment of its investigational secretomes and in its mission of creating innovative therapies. Immunis is proud to present these groundbreaking efforts to the Advanced Therapies community.
About Immunis Inc.
Immunis is a private biotechnology company developing a novel immunomodulatory secretome product for the various manifestations of age and disease-related immune decline. The investigational product line leverages Immunis' leading-edge capabilities in secretome technology to deliver a product of all natural, all human immune modulators in their natural relative physiological concentrations. For additional information about Immunis' Phase 1/2a clinical trial please visit: https://immunisbiomedical.com/clinical-trials/
Cautionary Note Regarding Forward-Looking Statements
This communication contains statements that constitute "forward-looking statements" within the meaning of the Private Securities Litigation Reform Act of 1995, as applicable. Forward-looking statements include, but are not limited to, statements regarding our plans, beliefs, expectations and assumptions, as well as other statements that are not necessarily historical facts. You are cautioned that these forward-looking statements are only predictions and involve risks and uncertainties. Further, any forward-looking statement speaks only as of the date as of which it is made, and we do not intend to update or revise any forward-looking statements. This communication also contains market data related to our business and industry which includes projections that are based on several assumptions we believe are reasonable and most significant to the projections as of the date of this communication. If any of our assumptions prove to be incorrect, our actual results may significantly differ from our projections based on these assumptions. This communication is neither an offer to sell nor a solicitation of an offer to buy any of the securities described herein.