IRVINE, Calif.
—
October 9, 2023
—
Immunis, Inc., a private biotech pioneering cellular secretome treatments to address age and disease-related immune decline, proudly announces that its Chairman, Dr. Hans Keirstead, will present at BIO Europe in Germany. With over 5,000 attendees, the conference gathers key stakeholders and thought leaders in the biotechnology space, serving as an exceptional platform for sharing breakthroughs, fostering collaborations, and charting the future of biomedicine.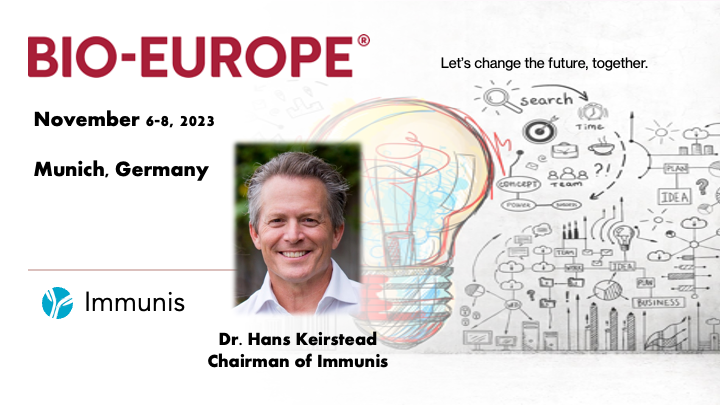 "International meetings like BIO Europe play a crucial role in amplifying groundbreaking work and fostering global collaborations," says Dr. Keirstead. "I'm excited to share the strides Immunis has made in cellular secretome therapeutics with the biotech community. Our preclinical data suggests that IMMUNA benefits muscle growth and function, as well as metabolism. The promise these treatments hold has the potential to reshape the medical landscape, and being at such a prestigious event offers an invaluable opportunity to push the boundaries further."
The highly anticipated presentation by Dr. Keirstead underscores Immunis' unwavering commitment to innovation and its position at the forefront of cellular therapeutics. Attendees can expect a captivating exhibition that highlights the scientific prowess of Immunis and the boundless possibilities that lie ahead in the realm of biomedicine.
About Immunis Inc.
Immunis is a private biotechnology company developing a novel immunomodulatory secretome product for the various manifestations of age and disease-related immune decline. The investigational product line leverages Immunis' leading-edge capabilities in secretome technology to deliver a product of all natural, all human immune modulators in their natural relative physiological concentrations. For additional information about Immunis' Phase 1/2a clinical trial please visit: https://immunisbiomedical.com/clinical-trials/
Cautionary Note Regarding Forward-Looking Statements
This communication contains statements that constitute "forward-looking statements" within the meaning of the Private Securities Litigation Reform Act of 1995, as applicable. Forward-looking statements include, but are not limited to, statements regarding our plans, beliefs, expectations and assumptions, as well as other statements that are not necessarily historical facts. You are cautioned that these forward-looking statements are only predictions and involve risks and uncertainties. Further, any forward-looking statement speaks only as of the date as of which it is made, and we do not intend to update or revise any forward-looking statements. This communication also contains market data related to our business and industry which includes projections that are based on several assumptions we believe are reasonable and most significant to the projections as of the date of this communication. If any of our assumptions prove to be incorrect, our actual results may significantly differ from our projections based on these assumptions. This communication is neither an offer to sell nor a solicitation of an offer to buy any of the securities described herein.