IRVINE, Calif.
—
September 14, 2022
—
Immunis, Inc.,
a private biotech company developing a novel immunomodulatory secretome for age and disease-related immune degeneration, congratulates its Chairman, Hans Keirstead, Ph.D., on being recognized as the
Orange County Business Journal's 2022 Innovator of the Year
. This annual award highlights the greatest innovators of Orange County who have generated groundbreaking products, treatments, services and business models.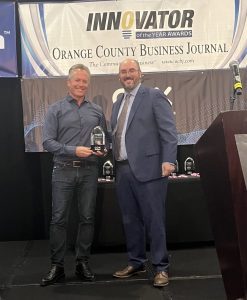 Dr. Keirstead was presented with this distinguishing honor for his innovation in the biomedical sector. As the Chairman of Immunis, Dr. Keirstead's mission is to utilize the stem cell secretome as an immunomodulator for age-related disease to improve quality of life. Recently, Immunis began patient screening for their FDA-approved Phase 1/2a clinical trials to use the secretome product, IMM01-STEM, in patients with muscle atrophy related to knee osteoarthritis. Immunis is proud of its Chairman for this achievement and is looking forward to exploring the potential benefits of IMM01-STEM.
About Immunis Inc.
Immunis is a private biotechnology company developing a novel immunomodulatory secretome product for the various manifestations of age and disease-related immune decline. The STEM product line leverages Immunis' leading-edge capabilities in stem cell technologies to deliver a product of all natural, all human immune modulators in their natural relative physiological concentrations. For additional information about Immunis' IMM01-STEM Phase 1/2a trial please visit: www.immunisbiomedical.com
Cautionary Note Regarding Forward-Looking Statements
This communication contains statements that constitute "forward-looking statements" within the meaning of the Private Securities Litigation Reform Act of 1995, as applicable. Forward-looking statements include, but are not limited to, statements regarding our plans, beliefs, expectations and assumptions, as well as other statements that are not necessarily historical facts. You are cautioned that these forward-looking statements are only predictions and involve risks and uncertainties. Further, any forward-looking statement speaks only as of the date as of which it is made, and we do not intend to update or revise any forward-looking statements. This communication also contains market data related to our business and industry which includes projections that are based on several assumptions we believe are reasonable and most significant to the projections as of the date of this communication. If any of our assumptions prove to be incorrect, our actual results may significantly differ from our projections based on these assumptions. This communication is neither an offer to sell nor a solicitation of an offer to buy any of the securities described herein.