IRVINE, Calif.
—
November 1, 2022
—
Immunis Chairman,
Dr. Hans Keirstead
, is the Board Chair of 
Mission Plasticos
. Mission Plasticos is a non profit providing FREE reconstructive surgery to underserved populations in medical need. Please check out the
segment
from CBS2 News highlighting the importance of this life-changing work!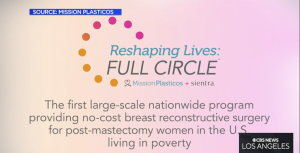 About Mission Plasticos
Mission Plasticos is a non-profit program founded in 1999 by Dr. Larry Nichter, Orange County plastic surgeon. He was later joined by Dr. Jed Horowitz whose artistry has been key to the success for his thousands of cosmetic procedures. Their mission is to provide worldwide reconstructive plastic surgical care to enhance the lives of those with correctable deformities. Mission Plasticos primarily performs surgeries in underdeveloped and poverty-stricken countries outside of the United States where children are frequently born with congenital disfigurements. Another goal of Mission Plasticos is to advance the field of Plastic Surgery through training, research, and public education of surgeons, enabling them to carry on this work in their home countries. For additional information, please visit: www.plasticosfoundation.org
About Immunis Inc.
Immunis is a private biotechnology company developing a novel immunomodulatory secretome product for the various manifestations of age and disease-related immune decline. The STEM product line leverages Immunis' leading-edge capabilities in stem cell technologies to deliver a product of all natural, all human immune modulators in their natural relative physiological concentrations. For additional information about Immunis' IMM01-STEM Phase 1/2a trial please visit: www.immunisbiomedical.com